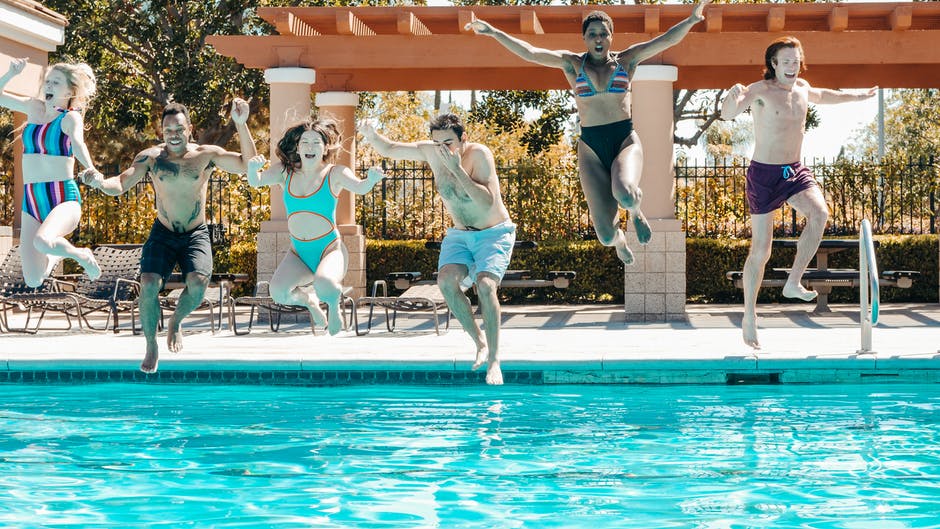 When's the last time you were able to enjoy sitting by the pool in full relaxation? Unless you have your own private pool at home, you might not get to experience pool time without a few little ones running around nearby. Thankfully, there's a way to still enjoy pool time without having to share it with young children. 
Adult pools are the solution. There are many adult-only pools that you can visit to enjoy a nice day out by the pool without any type of distraction. Depending on the adult pool you visit, you might even stumble across an adult pool party. 
Who says adults can't still have fun? 
There's No Need For Big Decorations
One of the first things you might notice about an adult pool party is that the decorations are minimal. When planning a child's pool party, you'll think of all the biggest and most extravagant decorations, but an adult pool party has a different focus. An adult pool party doesn't worry too much about the decorations, although you may find a few here and there. 
If the pool party has a theme, then that's when you'll see the most decorations. Adult pool parties with themes are lots of fun because all of the guests will dress up according to the theme and you might even find drinks, snacks, and party games all associated with the theme of the party. Otherwise, you can expect a laid-back, welcoming environment for all adults to come enjoy. 
Drinks Will Be Served
Because there won't be any little ones running around, there will be lots of drinks to choose from. You might find a mix of cocktails, daiquiris, and more. There might even be an open bar depending on who's throwing the party. 
Otherwise, there might be a cooler with different alcoholic beverages inside of it to choose from. The best party about it all is that you can drink in a peaceful situation without having to worry about any little ones taking the wrong drink or needing to stay sober so you can keep an eye on them. There will only be you and other adults at the pool.
You'll Be in Complete Relaxation Mode
Adult pool parties aren't always wild and crazy, although they sure can be depending on what type of party you're looking for. Instead, adult pool parties can actually be quite relaxing. Imagine sitting out by a beautiful pool during the middle of the day at an adult only resort.
Your feet are up on your pool chair, you have a tropical drink in your hand, a sunhat on your head and everything is good. The breeze is in your hair and the sun is beating down on your skin. There's not a worry in your mind at this moment. 
This is what makes a fabulous adult pool party. There are no screaming children or splashing happening around you and you're able to sink into complete relaxation. 
Expect Your Favorite Music to Play
Another benefit of visiting an adult-only pool is that you can expect some of your favorite music to be playing. There won't be any cartoon tunes or children's songs playing. Instead, you'll be able to listen to your type of music. 
If there's a DJ at the pool, then they might spin a few different songs and combine different genres of music together. Don't be surprised if you soon find yourself singing and dancing. You might even spot a small dance floor next to the pool. 
Food Will Be Light Yet Sufficient
Food at adult pool parties is often light yet sufficient. There's no need to have a full buffet of food as many adults would rather sip on a few drinks than eat a full meal. However, these parties often offer a good amount of healthy finger foods and snacks for you to much on. 
If staying at a resort, then you'll most likely be able to order food from a menu and have it brought out to you. 
There Might Be Some Fun Adult Party Games
Who says adults can't partake in some fun pool games? There are many great pool games and activities that adults can play. For example, you might find a game of pool volleyball, or basketball going on. 
There might be a game of trivia set up poolside with fun prizes for the winners. There are even pool drinking games to try out as well. If desired, do some research and come to the adult pool with a list of fun adult pool party games to play. 
It won't be difficult to recruit a few other guests to play along with you. 
You'll Have a Lot of Fun
At the very least, you'll have fun. If one thing is for certain, you'll have fun at your pool party no matter what you're doing. Whether you're sitting back in your pool chair relaxing or taking a nap or splashing in the water playing a favorite adult pool party game, you'll be creating fun memories. 
Consider the type of adult-only pool experience you're looking for and then find the right one for you!
Is Visiting Adult-Only Pools Worth It?
The final question remains. Is visiting adult-only pools worth it? If you're looking for a relaxing escape away from any young children or teenagers, then the answer is yes. 
If you're looking for a fun day of partying with people your age, then the answer is yes. There are many reasons to love a great adult-only pool, but you'll only know for sure once you visit one yourself. For more lifestyle and entertainment posts, be sure to check back here on a daily basis.