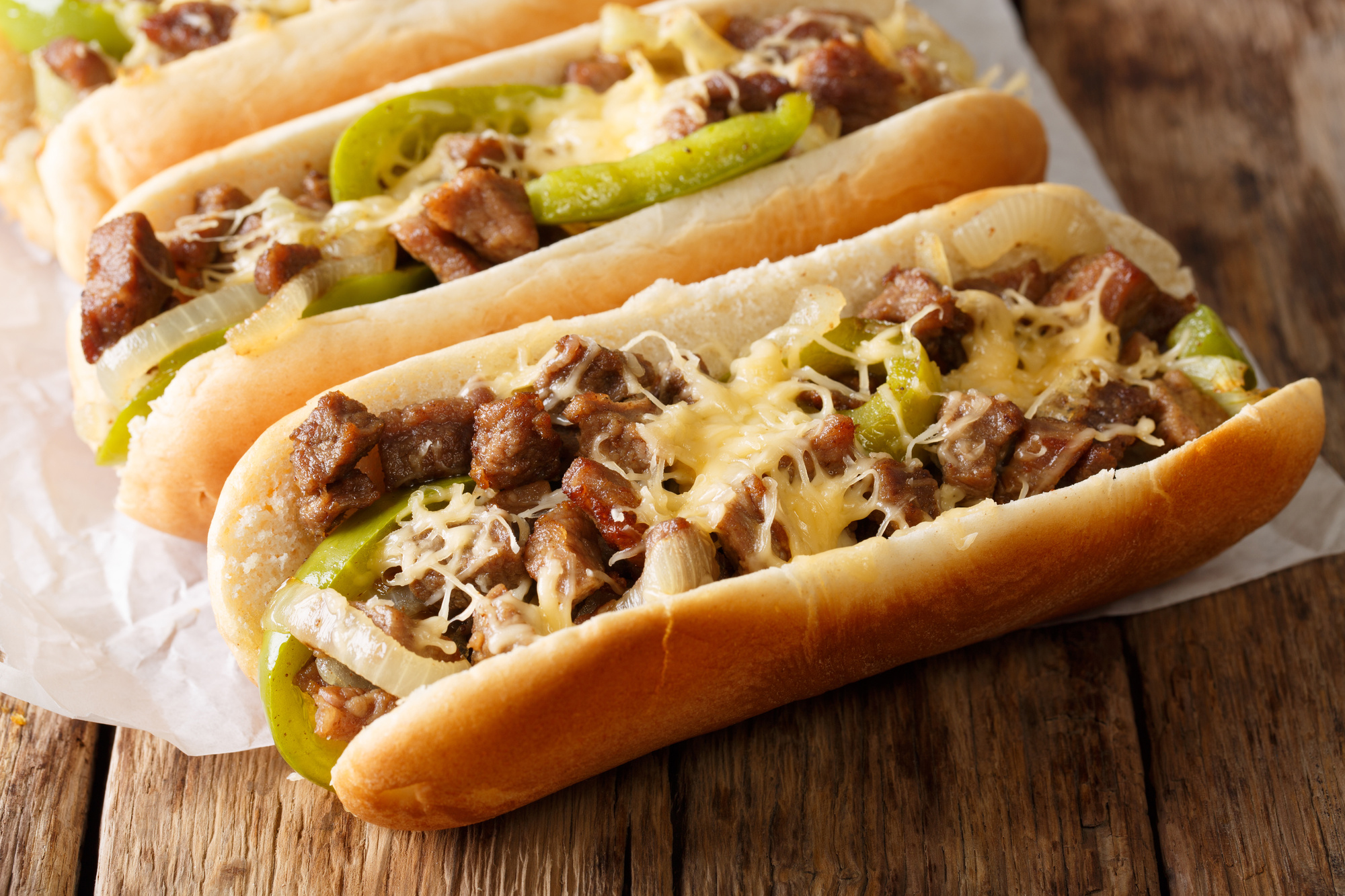 Crisp fresh bread filled with delicious juicy steak, topped off with bubbling, melting cheese. A simply beautiful recipe that is surprisingly simple to make. Read on to see our guide for the best Philly Cheesesteak. 
Philly Cheesesteak Preparation
Slice two red peppers, two green peppers and a large onion. If you like a slightly sweeter taste, you can replace the onion with a few shallots. In a pan combine the ingredients with a dash of oil and sea/kosher salt. Cook until the onions are caramelized. 
Choosing and Cooking the Steak
When selecting a steak, aim for something that has a lot of marbling. This keeps the meat tender during cooking and means your Philly Cheesesteak will stay soft and hold more flavour. Season generously with salt and pepper, remove the previous ingredients from the pan and cook to your preference. 
Return the Ingredients to the Pan
When the steak is almost cooked to your preference, return the onions and peppers to the mix. Stir well so that you have a good blend of steak and vegetables running throughout, with color evenly displaced. Conduct a taste test and add more seasoning if required.
Adding the Cheese
Firstly, choose your cheese. A traditional cheese would be a provolone, sliced American white or Cheeze Whizz. Which to use is often a hotly debated topic but stick with something that has a low melting point and is not too overpowering, as you do not want to mask the flavour of the delicious steak.
Cover and Mix Well
Once the cheese is layered over your mix, cover the pan and let it sweat for 3-4 minutes. When the cheese is bubbling and melting into your mix, you are ready to serve. remove the lid and let it breathe while you prepare the bread.
Selecting a Bread Type
For the casing, you need something soft, white and fluffy so that the juices and sauce are soaked up. White subs or hoagie rolls are ideal but if you can not get hold of them, any sub shaped bread will suffice. If required, you may toast the rolls slightly beforehand for a crisp texture. 
Serve and Enjoy
By now the sandwich will be hot, sticky and ready to devour. Add the mix from the pan to your rolls and squirt your choice of mayo or ketchup on top. Take a seat with family and friends, or relax in the yard and enjoy one of America's most iconic sandwiches. 
Matching It With Drink
For the kids, a good old American soda such as a Root beer or Cream Soda would go perfect. For adults, a medium bodied red wine or a dark ale will work perfectly. 
Quick Sandwich Hacks
If your mouth is watering already at the thought of this delicious Philly Cheesesteak, but you just cant wait, then why not order online? Fast, efficient delivery services can have the sandwich at your door, prepared by experts in minutes. What are you waiting for?