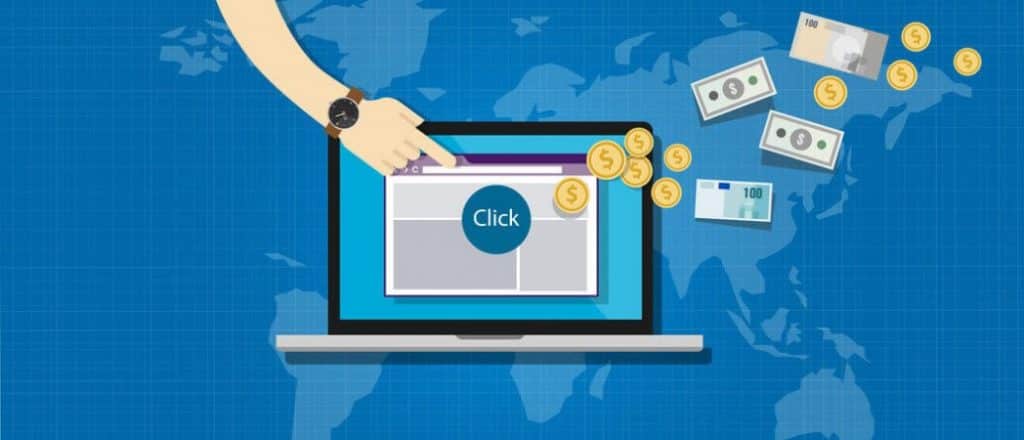 If you're still searching for ways to make money online in 2018, you're not entirely out of luck. Forget about the "gurus" that say they can make you into a millionaire overnight on autopilot – those are scams.
I'm going to focus on helping you make real dollars using the powerful force of affiliate marketing. With months of hard work, sweat equity and professionalism, you will truly be able to make a nice income from your websites. In fact, I guarantee that anyone who is willing to put in the right amount of effort and is capable of outputting quality results, will be able to make a very decent amount of money online (enough to quit your day job).
Now I want you to forget about all the money you'll soon be counting and place your focus towards creating high quality websites. It's important to really put all your energy towards creating a solid online business rather than doing it all just for the money. You are about to start a business – you are an entrepreneur.
Chase the vision, not the money. The money will end up following you. – Tony Hsieh
What is Affiliate Marketing
Before getting started, I want to briefly explain what affiliate marketing actually is and what it does. If you're already familiar with affiliate marketing, you can skip ahead to Step 1. Otherwise, stick around – these are the basics to your soon-to-be business.
Affiliate marketing is basically getting sales and being paid by commission.
You promote products, services, programs etc. owned and entirely managed by other companies. You help convince consumers to purchase their products via your affiliate links. If a consumer clicks on your affiliate link and makes a purchase, you earn a commission.
Think of it like a car salesperson who tries to get consumers to buy cars from the company in order to earn a nice commission.
Here is a simple drawing for all of you visual learners:
Let's look at an example:
If I were to build a website that covered healthy fitness snacks, I would look for as many different affiliate programs related to that niche as possible.
Fortunately, there just happens to be a healthy fitness snack affiliate program called FitSnack. So I would then proceed to sign up for their affiliate program and I would write a few articles on my website about how awesome their snacks are, the health benefits involved etc. Each article would end with a call-to-action button towards the FitSnack website and the URL would be my own affiliate link.
When a visitor clicks on the link, they still get sent to the FitSnack website, but my unique URL allows FitSnack to track all sales that come from my end.
FitSnack offers up to $8 per new subscriber, and the cookie-window is good for 30 days (which means a visitor can click on my link, close their computer and return 29 days later to make a purchase and I would still get the commission).
Can I Honestly Make Money with Affiliate Marketing?
Short Answer = Yes you can.
You absolutely can make money with affiliate marketing just as a life insurance salesman can earn a living going door to door and just like a boxer can make money getting punched in the face. The hard truth that many amateur webmasters fail to believe though is that if you're looking for a quick get-rich-scheme, you won't find it.
Affiliate marketers do make good money and depending on your niche, motivation and skills, you could actually make millions of dollars per year. In fact, most people who earn a living from affiliate marketing make more money than most people who work 9 to 5 day jobs. You too can make more money by working your own hours, from anywhere in the world and with one of the most stress-free work environments imaginable.
It's not all rainbows and unicorn farts though – you'll need to put in a tremendous amount of hard work in order to make it a long-lasting and stable income. Don't go quitting your day job after your first sale, it could be months before you make another.
Fortunately for you, I've created a full step by step tutorial on how to get started in affiliate marketing in 2018. Take notes, bookmark this guide and use our contact form or social media accounts to get in touch for any help, tips or assistance you may need.
---
Step 1:

Find a Niche
It's been said many times before, but I'm going to repeat it once more – find a niche and stick with it. Don't try to outrank the leaders of the internet. Don't hope to make big sales writing smartphone reviews – that's already covered by the big league websites like Cnet, PCmag, TechRadar, TrustedReviews, TopTenReviews and so on… the list could go on with dozens of other sites that you'll never outrank.
So how do I pick a good niche?
Make sure you can actually stand a chance. First, come up with a list. Brainstorm as many different niches that you'd be interested in writing about and then search for them in Google.
What comes up? Do you see major players like Forbes or do you notice more underground websites?
Make note of all the niche ideas you thought of that had very few big-league sites in the first page of your Google searches and then narrow it down to just 3 or 4 ideas. Now look for related keywords for those remaining niche ideas. I like to use tools like SEMrush, Ahrefs and MOZ to get information about the main competitors' domain strengths, their amount of backlinks, how many keywords they rank for etc.
If you're not quite sure how to use those tools, go to SEMrush and paste the domain of your main competitor into the search bar at the top. You will find all sorts of information about them such as the keywords they are currently ranking for. Make a note of those keywords – you'll want to rank for them too.
A good niche has small to medium-sized competitors, decent volume keywords and potential for many articles to come. Avoid niches that don't inspire you – you'll run out of content ideas and motivation rather quickly.
---
Step 2:

Find Affiliate Programs for Your Niche
Now that you have a handful of excellent niche ideas, it's time to see if they can actually bring you any sort of income. While placing display ads on your site is a good way to supplement income, you'll only make a tiny amount of money unless you attract hundreds of thousands of monthly visitors. You want to make sure you can promote products in your niche and earn a commission for them.
Here is a list of affiliate networks where you should sign up as a beginner in affiliate marketing. In fact, even as a seasoned affiliate with nearly a decade of experience in the industry, I still use most of these networks.
The affiliate networks listed above are among the best in the industry. Most of these contain hundreds, even thousands of different affiliate programs. Whether you're looking for detox cleansing products to promote or even if you want to encourage people to rebuild their credit score, you're certain to find all the programs you need above.
However, there will be times when you won't find the exact program that you're looking for.
Example: Not too long ago we created a list of alternatives to an online graphic design tool called Stencil. We wanted to add in an affiliate link since we were already linking back to the website either way, but Stencil had no affiliate program available in any of the above mentioned networks. By typing the following into Google "Stencil Affiliate Program", we were able to find the exclusive Stencil affiliate program.
There will be times when you won't find any affiliate programs for specific sites. Not all companies have them. What you can do however is figure out who owns the website you're seeking an affiliate program for and write them a professional and polite email. Briefly explain your website/goals and ask if they would be interested in having an affiliate partnership with you where you bring them leads for a commission. It won't always work, but occasionally you will get an outstanding deal that's available exclusively to you.
So to wrap up step 2 – once you've determined that your niche has relevant affiliate programs available, you can move forward. By now, you know that there's demand via the keywords, the competition isn't too harsh and there's an excellent way to monetize your website as it grows by adding more affiliate products.
---
Step 3:
Find a Good Domain Name
One of the most overlooked aspects of building a website is the domain name.
It's true – most people spend so much time thinking about how they will structure the website, what content they will write and how much money they will make in commissions, that they entirely forget about giving the whole project a name. This causes most webmasters to rush into picking a domain name at the very last minute.
Fortunately, you can now rely on useful domain name generator tools online to help you find the ideal name for your site. These tools are free to use and will combine keywords of your choice. They shuffle through all sorts of combinations and alterations providing you with thousands of fun and exciting domain name ideas.
My favorite domain name generator is Wordlab domain name generator
It has a really cool layout with different boxes for each type of name created. In the screenshot below I used the keywords: Bee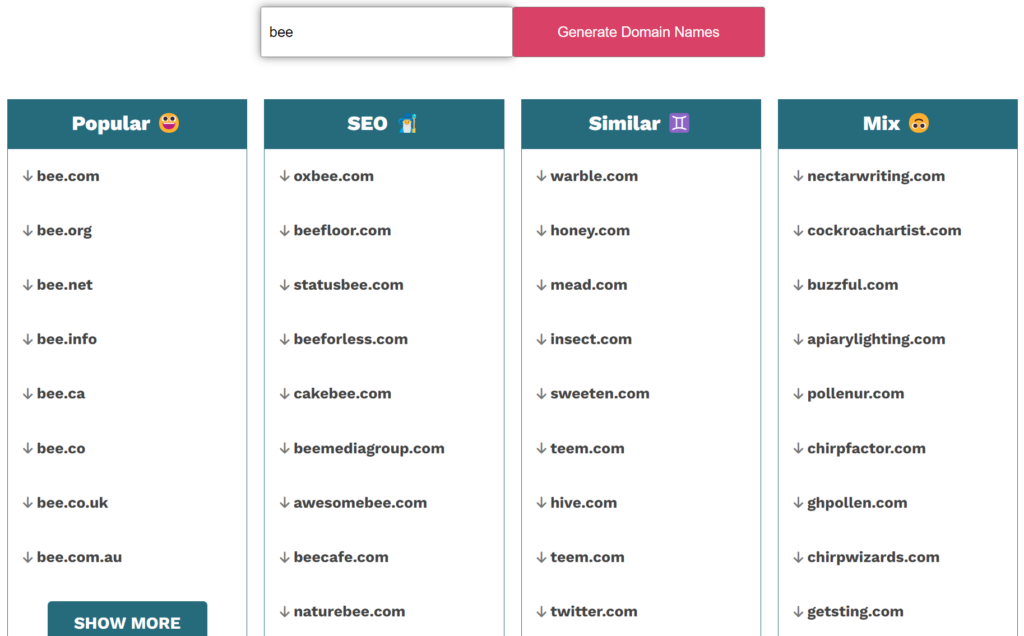 Here are a few more useful domain name creation tools – they are all free to use:
Tips for Choosing a Domain Name
Try to choose a domain name that is shorter than 18 characters, features at least one of your main keywords in the name and is very easy to remember. Also make sure to avoid numbers (spelled out or numerated), avoid hyphens and all other special characters.
---
Step 4:

Setup & Build a Simple Website
After choosing a domain name that you love, it's time to build your website. For the sake of this step by step tutorial on getting started with affiliate marketing, I'm going to be using WordPress. However, there are many other excellent ways to quickly and easily build a website without any coding skills required.
Nonetheless, gaining HTML & CSS coding skills will prove to be extremely helpful on numerous occasions down the road. I recommend browsing this list of sites like Udemy to find free online coding courses. You don't need to know how to code complex algorithms – simply learning the basics of HTML and CSS is an extremely good idea for any aspiring affiliate marketer.
Buy the domain:
Now go ahead and purchase your domain name before someone else gets their hands on it. Don't bother buying all of the additional extensions such as .net, .ca, .xyz etc… those are useless and domain resellers will always try to convince you to buy them.
I like buying my domain names at iPage, but here is a full list of reputable places where you can buy domains online:
I don't stay with the low-grade hosting provided by these companies though. iPage's upgraded servers are a joke and if you intend on growing your website, you'll want quality servers. Not only will you be able to handle more traffic, but your website will actually become much faster by using an alternative hosting solution.
I choose Flywheel for my hosting.
I run all my sites on individual hosting plans with them and I have not a single complaint. The interface is simple, yet efficient, the support team is extremely fast and so are the servers. They also have a built-in CDN, they provide free SSL certificates and you daily backups ensure that you website is always safe and sound.
Once your domain is set up and you're all good to go, I suggest you install WordPress.
WordPress is simple, yet has the ability to be incredibly complex. This makes it a highly versatile website builder that is adored by both amateur webmasters and senior webmasters alike.
Build Your Website's Bones
Start by picking a WordPress theme that you really like and build yourself a simple, yet complete website. By this I mean create a 'Contact' page, write an 'About Us' page and set up everything so it's ready to receive articles. Make a logo and upload it, play around with the design of the theme until it feels right to you, install your Google Analytics code and so on. You can find a ton of tutorials on how to setup a WordPress site for the first time with a quick Google search. For now, I want to focus on getting started in affiliate marketing.
---
Step 5:

Write High Quality & Keyword-Rich Content
Now the tricky part begins. Most people who make it this far feel like they've put in so much effort that they can't even imagine writing multiple blog posts. If this is your case and you still wish to move forward with becoming an affiliate marketing legend, I suggest you hire a talented content writer. The list below contains a few freelance job sites that will allow you to find writers online within an hour or so.
If you're the type of warrior who built your website from scratch, found an awesome niche, applied to numerous affiliate networks online and you still want to write content – then I have a ton of tips to make your life easier.
First and foremost, use SEMrush – I cannot stress that enough. SEMrush is the ultimate SEO tool online and it's well worth the low monthly fee. You will be able to monitor competitor keywords, find related keywords, analyze your backlink profile, keep track of rankings, explore tons of great blog post ideas and so much more.
Another excellent tool that you can use to find article ideas is KWFinder.
You can choose to use this tool quite often with the free version or you can upgrade to the premium membership plan for cheap and really make the most out of your keyword researching.
Two more SEO tools that I highly recommend using include MOZ and Ahrefs.
Now sit down, make yourself a pot of coffee and write unique, informative and engaging content that your visitors will love reading. Your goal is to captivate your audience – don't even think about money or sales just yet. The minimum you should ever write per article is 400 to 500 words, but the more the merrier. Make sure you don't overdo it by repeating the same keywords over and over again – instead, use keyword LSI and related keywords.
Example: If I was writing an article about the best alternatives to electric shock dog collars, I wouldn't write "best alternatives to electric shock dog collars" more than 2 or 3 times maximum. Instead, I would use related keywords as often as possible without it seeming unnatural. Here is a brief list of keywords that would fit well with that example:
better than electric dog collars
electric shock dog collar alternatives
main competitors to powered collars for dogs
huge improvement over electrically powered dog collars
As you can see, the term remains similar and we continue saying the same thing and proving the same point. However, instead of repeatedly using the same keywords, we change it up a little and get multiple long-tail keywords that we can possibly rank for.
---
Step 6:

Linking, Sharing & Promoting
The final step – you now have to share, promote and create backlinks for the article your just published. If you want your website to get big and powerful, you'll need to do this for every single article you publish and you will need to do it at least an hour or two every day regardless of whether or not you published new articles.
Building links is all about strengthening your website on the inside.

Sharing it on social media is all about making it stand out and shine like a diamond.
The more you create high authority backlinks by linking back to your website from other websites on the internet, the more your site's "popularity" will increase. Your website will become increasingly trustworthy and Google will begin ranking your website above the competition. Don't get impatient though – this is often where amateurs mess up. Impatience can lead to you wanting to pay for tons of backlinks for cheap. This is the last thing you want to do and will result in a Google Manual Penalty 6 times out of 10.
Keep sharing your new content, keep building new profiles, keep exploring the internet and placing your websites' backlinks as often as possible. Once you begin getting traffic, place your affiliate products here and there on your website without it seeming too obvious. Then when you really start getting good traffic, start writing in-depth reviews for the products you're promoting. Within no time you'll be making thousands per month and you'll be onto building the next site.
I hope this tutorial will be of some help to aspiring affiliate marketers. Please leave a comment below if you have anything to add and don't forget to come back to our blog for more upcoming tutorials on how to build an incredibly lucrative online business.
---