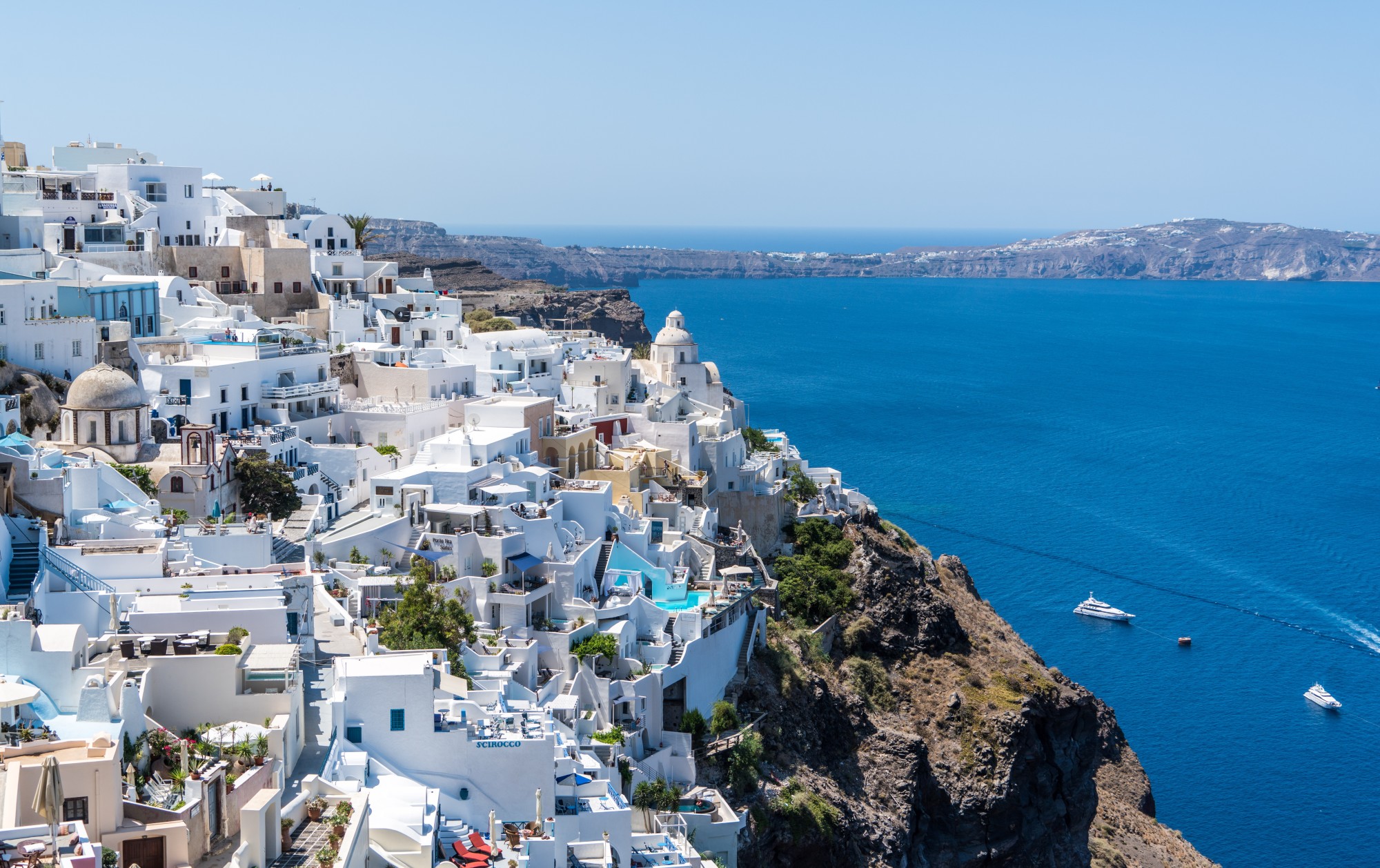 The Mediterranean region is one of the most popular tourist destinations in the world, and for a good reason. The mild climate, warm sunny days, stunning beaches, and fresh, healthy food make it a holiday favorite for both Europeans and overseas visitors.
Spain, Italy, Greece, Croatia, Turkey, France, and Malta are just some of the many countries in the Mediterranean Sea. Whether you want a holiday in one country or want to explore them all on a cruise, the Mediterranean will leave a lasting impression on you.
Here are the seven most beautiful Mediterranean holiday destinations you have to visit this year.
1. Santorini, Greece
Santorini is one of Greece's most popular holiday destinations with stunning 360 views of the Mediterranean Sea. Its capital, Oia, is perched on top of head-spinning cliffs, promising breathtaking sunsets from almost any spot.
To get to the beach, you'd have to walk or drive down to the sea. The most famous beaches are the Black Beach (Perissa) and the Red Beach. Be careful here as Santorini is a volcano-created island and there may be landslides.
2. Sicily, Italy
Spending your holidays in the Mediterranean islands is an experience you'll remember forever. Each island has its own culture, cuisine, history, and trademarks, and Sicily in Italy is no different.
This island is home to one of the world's most active volcanoes, Etna. Sicily's most popular cities are Catania, Ragusa, Palermo, and Syracuse, featuring white sandy beaches, clear blue water, and plenty of sunshine.
3. Mediterranean Cruise
If you want to see the entire Mediterranean coast and visit several ports, few things beat the beauty of a Mediterranean cruise. This is the best way to discover the Mediterranean and explore different cities and beaches.
Depending on your itinerary, you'll visit Barcelona, Palma de Mallorca, Venice, Sardinia, Villefranche-sur-Mer, Dubrovnik, Venice, Santorini, and Malta.
4. The Costa Brava, Spain
Spain's east coast, also known as Costa Brava is one of the best places for Mediterranean holidays. There are several cities and islands worth a visit, the most popular of which are Barcelona, Ibiza, Lloret de Mar, Palma de Mallorca, and Alicante.
5. The French Riviera
The French Riviera is a famous holiday spot with beautiful beaches and charming coastal towns. The most popular spots are Nice, Cannes, Antibes, Saint Tropez, Villefranche-sur-Mer, and Monaco.
Though it's a celebrity hot-spot, tourists and vacationers from all over the world come to spend their holidays on the Azure Coast.
6. Cyprus
If you're looking for cheap Mediterranean holidays, Cyprus is your spot! This island located just south of Turkey is divided into two parts: the Northern, belonging to Turkish Cypriots, and the Southern, belonging to Greek Cypriots. If you want to explore the island, you'll need a passport to go from one to the other part.
Other than that, you'll enjoy white sandy beaches, wonderful weather, great food, and plenty of history.
7. Malta
Malta is an unexplored island gem in the Mediterranean that'll charm you with its historic towns, beautiful beaches, and friendly locals. Malta is a small island, so you can easily get anywhere by car or ferry. Don't miss the Popeye Village and make sure to visit the capital city Valletta, which is a sixteenth century historic landmark.
These Mediterranean Holiday Destinations Will Take Your Breath Away!
These Mediterranean holiday destinations will give take your breath away with their beautiful beaches, unique cuisine, and perfect climate. Pick one spot and spend your days exploring or visit them all on a cruise.
Need more holiday inspiration? Check out the other travel tips we have on our site and start planning the vacation of your dreams!